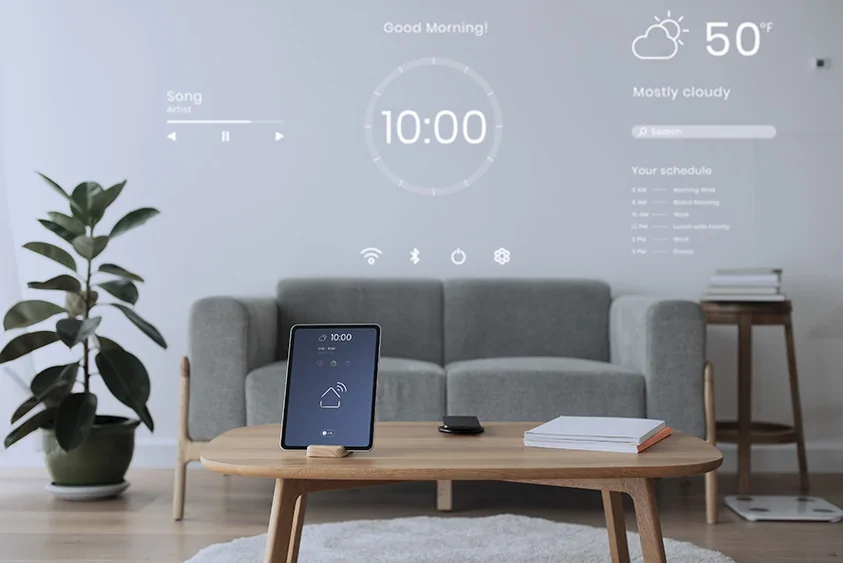 January 13, 2023
448 Views
How far can technology help you at home?
Technological advances respond to the needs of human beings and although our adaptation is a quality in the face of innovations, for some it can represent a challenge because they are not familiar with the use of some tools.
In this post we share with you the benefits that technology can bring to your life, showing you why the same routine invites us to lose fear and join the digital world.
From ordinary life to intelligent life
Imagine the scene from an eighties movie where the protagonist raises his voice asking an automatic assistant to start playing a song or turn on the light in the room or open the front door, without making much effort. And it is that many technological innovations that seemed "from a movie" today are a reality because in order to simplify our lives we have adapted to the use of smartwatches, giant televisions, virtual assistants, video calls, and smartphones, making our spaces more intelligent, like home.
Smart Home
Home automation is the set of systems that automate the different installations of a home, that is, thanks to automation you can have control of your home to maintain optimal security by controlling the door locks, the lighting of the spaces, and the focus of the security cameras, creating a space that makes you feel comfortable but also protected.
How does it work?
One of the great advantages of automation is that with the push of a button, you can control those household activities that can be synchronized to the interface of hardware, communication, and electricity to achieve a certain task by simply opening an application on your phone or speaking the words magic of "Siri" "Alexa" or "Hey Google".
Digital assistants today are the executors of the tasks that you do in your day-to-day and act in situations that you can normally do yourself, for example putting on your favorite playlist. Using smart devices and the internet service you will be able to control, connect and disconnect the home automation systems that you configure in your Smart Home.
How much can it benefit you?
As we know, technology came to make life easier for us, and making your home a functional space to make it smart can provide you with many benefits, such as:
Modernize and save.

Having an automated home will help you control energy use effectively, saving a considerable amount at the end of the month. Take the test and you will see that your pocket will thank you.
Safety for the whole family.

Installing security cameras has never become as necessary as it is today since in different cities the crime rates arouse the concern of keeping spaces under surveillance in order to keep our families safe. There are affordable surveillance cameras that can detect any movement, do not hesitate to protect the integrity of your loved ones and your assets.
Efficiency in time and space from your comfort.

Shortening spaces to video-chat with our loved ones or attend a work meeting from the comfort of your home is possible thanks to the technology of a smartphone, laptop, or tablet, regardless of distance or location.
If you have not yet experienced the advantages of technology, we invite you to break your fear and dare to take the next step. Remember that TecWeb can help you with the automation of your software systems, CRM, and ERP API's. Contact our executives and they will be able to provide you with more information.
Need help or more information? Contact us.